We were delighted this Summer to help with this Oak and Larch Garage Project and help to deliver this stunning Car Port and Clubroom.
Brace and Post Detail.
We worked on this Oak and Larch Garage Project with the stakeholders including the builder, architect and owner.
Furthermore Quality European Hardwoods were very impressed with end result arising from imagination, detailed design and workmanship. The project finish was fashioned from our standard stock Beams and Larch Tongue & Groove Cladding products.
The involvement of Quality European Hardwoods was to supply the timber cut, planed and joined. We then dispatched the timber for erection onsite by the subcontractor.
The Oak beams were fashioned from 150 mm by 150 mm stock beams and 50 mm stock oak slabs. The timber used for the project was Croation Oak. In our workshop we cut and  planed all the timber beams to specification. After we shaped and joined the boards. Then the project was supplied as a kit for onsite assembly. Lastly some sections were first preassembled to ensure a perfect fit and minimal onsite adjustment.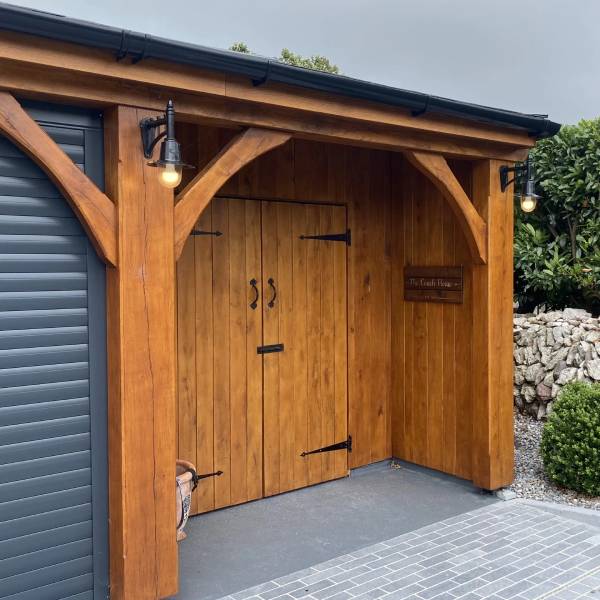 The Cladding that we used was finished 20 mm by 145 mm Tongue and Grooved Siberian Larch boards. These were fastened with  stainless brads to interior Douglas Fir supports. Interior roof trusses and rafters were fabricated from Douglas Fir. Then the timber was finished with a coloured Osmo oil. We choose highly durable timbers for every element thoughout this project. Thus ensuring many decades of service life.
Quality European Hardwoods will be delighted to help in any Oak and Cladding project. Again from a timber supply perspective. Or to provide value added service. Including timer preparation and onsite carpentry support as required.
Feel free to upload a cutting list, drawing or just photograph of what you'd like.
In addition get in touch or visit us at our facility in Cobh, Co Cork  P24 RR27 (Near Fota, 12 minutes from Dunkettle) for a face to face discussion. Excuse the sawdust!!!