If you are looking for a way to enhance your garden, then The Natural Beauty of Garden Pergolas could be one of your options.
The Natural Beauty of Garden Pergolas will improve the look and function of any garden.
What is a pergola?
A pergola is a structure that is usually found in a garden. It can be attached to the house, freestanding or a part of a decking kit. It can be made of timber that usually comes in a rectangular shape but it can also be hexagonal, square, circular and even octagonal. Pergolas can have a roof or they can provide shade.
What are the uses of a pergola?
The main purpose of pergolas is to support climbing vines. Since they have support columns with angled oak beams above, the vines can grow up and around the pergola. Some contemporary designs have roofs which can provide a cosy haven or shelter from the sun. They usually have open sides that allow fresh air to circulate.
In addition, pergolas can serve as an entertainment or barbecue area. A pergola can also add value to a home. It can make the landscape of the outdoor space, the garden or even the whole house more appealing, which can eventually attract more home buyers.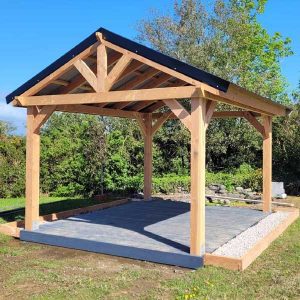 Where can you buy pergola kits?
Quality European Hardwoods Limited is one of the leading timber merchants in Ireland. We have a wide range of pergola kits, available in various designs. Whether you are looking for a solid support for your climbing vines or a relaxing space in your garden, you can find the pergola kit to fit your requirements.
Contact us through our website or feel free to upload a cutting list, drawing or just photograph of what you'd like.
Alternatively just get in touch or visit us at our facility in Cobh, Co Cork  P24 RR27.